Competitive analysis is a process that involves relating the company to its environment. Competitive analysis helps to identify the strengths and weaknesses of the company, as well as the opportunities and threats that affect it within its target market. This analysis is the basis on which the strategy will be designed; for this, we must know or Intuit as soon as possible:
The nature and success of the likely changes that the competitor may adopt.
The probable response of the competitor to the possible strategic movements that other companies may initiate.
The reaction and adaptation to possible changes in the environment that may occur from the various competitors.
The competition is integrated by the companies that act in the same market and perform the same function within the same group of clients regardless of the technology used for it. It is not, therefore, the competitor that manufactures a generic product like ours. Still, one that satisfies the same needs as we do concerning the same target audience or consumer, for example, thematic parks can compete in the cinema, since both are embedded in leisure.
To give an accurate idea of the importance of competitive analysis, we must refer to the business strategy planning process, which answers three key questions:
Where are we? Answering this question, we are forced to analyze the situation that responds to the position we occupy.
Where do we want to go? It supposes a definition of the objectives that we want to reach and to which we need to move.
How will we get there? At this point, we must point out the development of actions or strategies that we will carry out to reach the objectives and if we will be able to withstand the rhythm.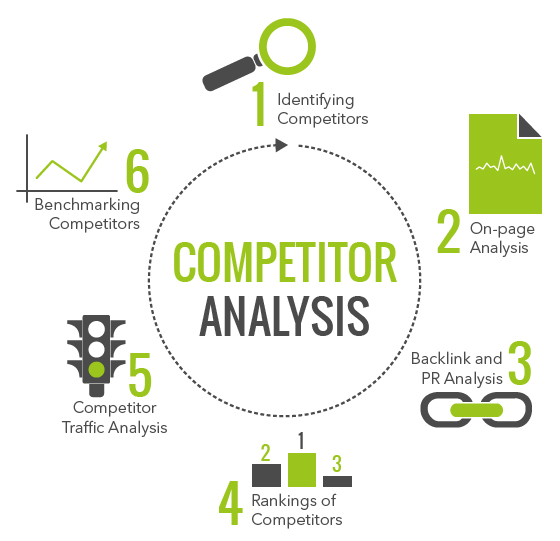 About the analysis of the situation, from which we start to carry out the strategic planning process, and from which we can determine the opportunities and threats, weaknesses and strengths of the organization, we must focus, in turn, on two types of analysis:
External analysis. It involves analyzing the environment, the competition, the market, the intermediaries, and the suppliers.
Internal analysis. It involves analyzing the organizational structure of the company itself, and the resources and capabilities it has.
Top 5 Competitive analysis tool to choose your competitor
| | | | |
| --- | --- | --- | --- |
| Task | Tool | Tool Type | Cost |
| Find other domains associated with a site | NetComber | Website | Free |
| Find other fields related to a site | Reverse Internet | Website | Free |
| Find other affiliates and GA accounts linked to a site | Reverse Internet | Website | Free |
| Find all the subdomains on a site | Reverse Internet | Website | Free |
| Research backlinks | Open Site Explorer | Website | Paid |
| Research backlinks | Majestic SEO Tools | Website | Paid |
| Research backlinks | Reverse Internet | Website | Free |
| Research backlinks | ahrefs | Website | Free |
| Find out a whole host of competitive data about a site, including Compete, domain info, software, analytics, social status, etc. | SiteTrail for Chrome | Browser Extension | Free |
| Find the demographics of visitors, such as gender, age, children in the household, household income, education, ethnicity (the US only) | Quantcast | Website | Free |
| See a site's traffic | Google AdPlanner | Website | Free |
| See a site's traffic | Google Trends | Website | Free |
| Check the visibility of top winners and losers in search | Search MetricsVisibility Report | Website | Free |
| Find out what ad networks and tracking frameworks a page using (to figure out ad campaign strategies) | Ghostery | Website | Free |
| Check the position of a list of sites given a keyword | SEO SERP for Chrome | Browser Extension | Free |
| Check a single metric across a list of competitor domains (Page Rank, backlinks, linking root domains, etc.) or check all parameters for one competitor | Ontolo's Competitor Backlink Monitor | Website | Paid |
| Check out technology companies, people, and investors | CrunchBase | Website | Paid |
| See links lost in a graph | ahrefs | Website | Free |