This list brings together the best antivirus for Android phones. Here you'll find apps that protect your smartphone and tablet with Google's mobile operating system. Best antivirus for Android phones of 2k18 which contain apps such as Avast, McAfee, and Norton is already known among computer users and also have versions for mobile devices. Among the options, we provide 360 Mobile Security that protects against different types of viruses by searching for system vulnerabilities. It calculates the risks to protect your data, privacy, and device. The software also checks the programs that are running in the background and eliminates the idle ones to optimize the performance of your gadget. There is also CM Security, a free antivirus that protects against viruses, trojans, system vulnerabilities, adware, spyware and other virtual pests. Check out the free antivirus download kit for your Android.
Best antivirus for Android phones of 2k18
360 Security
73,766 DOWNLOADS
360 Security is a free Android security application that also brings all the relevant tools for system optimization. In addition to freeing up RAM, cleaning the smartphone's storage, it still promises to protect the device from viruses and other malware by checking which apps are installed or upgraded.
Avast Mobile Security & Antivirus
107,725 DOWNLOADS
Avast Mobile Security & Antivirus is an Android application that scans the device for apps and malicious code in general, in order to avoid possible malware infections. The program also has extra tools such as router scanner, password protection of applications and multi-platform password management system. The app is free to use.
Bitdefender Mobile Security
9,369 DOWNLOADS
Bitdefender Mobile Security is an application that promises to protect cell phones and tablets from viruses, malware, spyware, trojans and other threats. The mobile internet offers thousands of threats to users and so the importance of having an antivirus installed is great. Without an app like that, your data is vulnerable to attack and malware.
CM Security
55,585 DOWNLOADS
CM Security is a totally free antivirus for Android. With it, viruses, trojans, system vulnerabilities, adware, spyware, and many other virtual pests are recognized quickly, because their cloud-based feed keeps you updated at all times (while connected to the Internet).
Dr.Web Anti-virus
19.375 DOWNLOADS
The Dr.Web Anti-virus application, available for Android and Windows, can be the ideal option to protect your smartphone or computer from all types of viruses and malware. The application provides mechanisms to prevent, find and get rid of such pests.
ESET Mobile Security
6.895 DOWNLOADS

ESET Mobile Security is an Android application that protects your device against viruses and prevents spam messages. It also has the ability to create a password so that they do not change their security options in cases of theft. Get to download ESET Mobile Security right now and protect your mobile device!.
F-Secure Mobile Security
2,879 DOWNLOADS

F-Secure Mobile Security is a complete security suite for your smartphone or tablet. The program is available for Android and Symbian and features a security suite that protects your device from all existing online threats and makes your mobile browsing really safe.
Kaspersky Mobile Security
16.948 DOWNLOADS

With the evolution of operating systems for smartphones and tablets, more and more have emerged virtual plagues and threats that have even invaded, including the application store for Android, Google Play. Kaspersky Mobile Security is an application to protect you from these virtual plagues and to shield your smartphone.
Lookout
30.306 DOWNLOADS

Lookout is an app that prevents your information and privacy from being hacked by protecting your Android or iOS mobile from viruses, spyware and malware. That way, you have extra protection against any kind of threat.
McAfee Mobile Security
12,945 DOWNLOADS

McAfee Mobile Security is a security app developed by Intel Security. The main function is that of antivirus, but the application brings features of privacy control, battery saving, and performance improvement, among others. The download is free and available for Android, iPhone (iOS) and Kindle Fire mobile phones.
Norton Mobile Security
1.442 DOWNLOADS

Through the smartphone, you download countless applications, access email, social networks, make banking transactions and even make purchases with credit or debit cards. All this leaves your device vulnerable to threats from viruses and malware.
NQ Mobile Security & Antivirus
6.657 DOWNLOADS

NQ Mobile Security & Antivirus is a malware protection application for your Android. The Google system is one of the most targeted by cybercriminals today. So it's always good to have an antivirus application installed. Even if it counts only basic and practical functions like this.
PSafe DFNDR Security
58.113 DOWNLOADS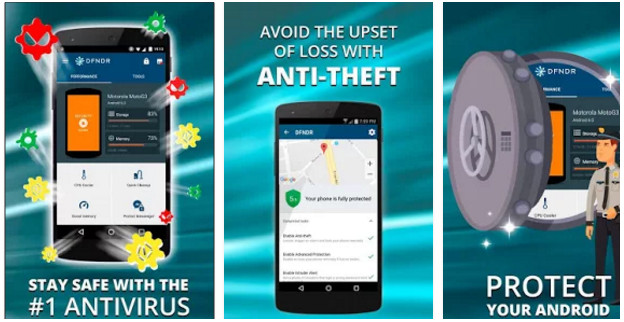 PSafe DFNDR Security, formerly called PSafe DFNDR, is a free security app for Android devices that will give the user a series of tools that can optimize and leave your device protected.
TrustGo Antivirus & Mobile Security
3.245 DOWNLOADS
Protect your Android with TrustGo Antivirus & Mobile Security. Due to the rapid increase in the number of smartphones and tablets along with the creation of applications, new security threats have emerged. Even if an app does not do something malicious, such as sending passwords and the username to hackers, it can gather information beyond what is necessary, which can expose personal data to attack.
Top Mobiel Trends of 2k18 to cope up with the world